With so many fleeting trends sweeping through the wedding industry at any given time, it's so refreshing to discover the timeless and elegant wedding venue that is The Refectory at Werribee Park. Nestled within the enchanting gardens of the historic Werribee Mansion and Werribee Park, The Refectory is a luxury wedding and events space oozing sophistication, country glamour and an all over decadently cool vibe.
A perfect mix of old world charm and contemporary style, The Refectory is a classic wedding venue, proving to be the perfect choice for couples looking for a chic wedding ceremony and reception, with the convenience of everything all in the one location.
The Werribee Mansion and the surrounding Werribee Park gardens that The Refectory sits amongst, is like a magical time machine – step foot on this property and you and your guests are whisked away to another time and place – think grandiose, romantic 19th century Italian country estate, rolling green lawns, stunning clear lake, lush foliage, sprawling grassland and secret shady nooks – all perfect locations for stolen kisses, private moments and whimsical photography setups.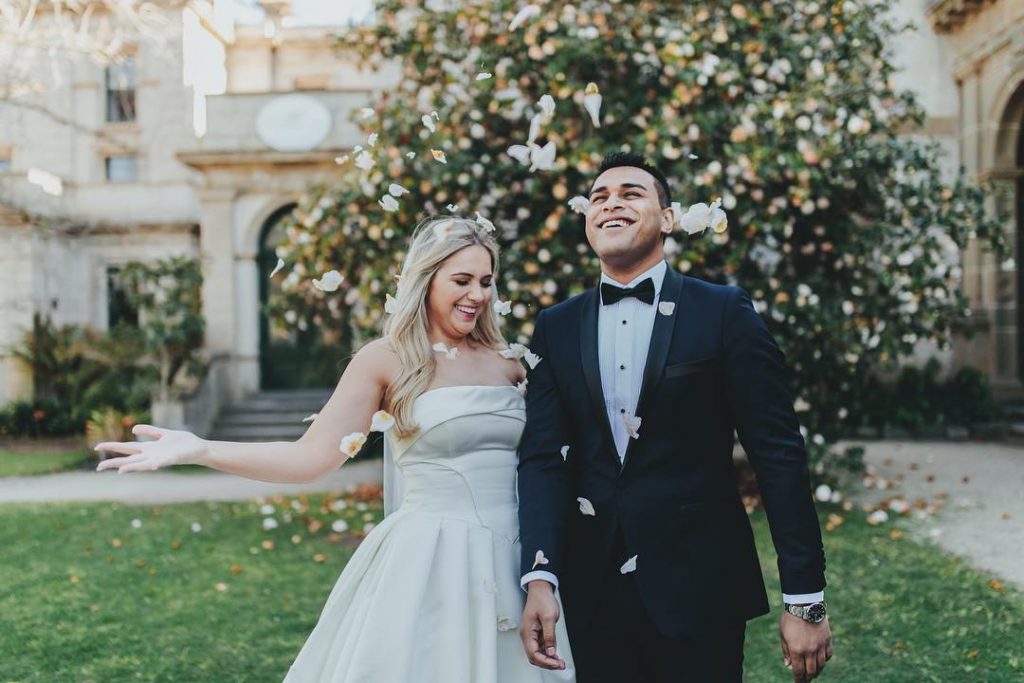 There are several ceremony locations scattered around the grounds to choose from – (actually eight in total!)– imagine saying your vows standing underneath a stunning oak tree; or in the middle of the colourful flower beds on the main lawn; within the formal gardens surrounded by roses; amongst gum trees; around the lake; or on the expansive front lawn directly in front of The Refectory… The choice is completely yours, to suit whatever style of wedding ceremony you are dreaming of – although our tip would be to draw inspiration from the environment around you – less is more here – the beauty of nature provides more than enough decoration for your ceremony without needing to add too much extra (budget saver!)
The range of locations can also double as fantastic spots for your wedding photography. Each backdrop varies from the next, offering a great range of scenery, mood and style… and while you are off capturing your 'just married' bliss, your guests can enjoy scrumptious canapés and cocktails on the front lawn before your reception party kicks off.
Entering the ballroom where your reception will be held, you discover the classical architectural features, designer chandeliers, high ceilings and gorgeous contemporary furnishings that would make any bride and groom feel both completely spoilt and comfortably at home at the same time – that's no easy task for a wedding venue to achieve, but somehow The Refectory at Werribee Park pulls this off seamlessly.
With the capacity to seat up to 180 guests, your wedding reception will be the party of the year where you can eat, drink and dance the night away. Go a little Gatsby on the dancefloor, lap up the attentive and personal service, and indulge in the food – created and executed by award-winning catering company Bursaria. With over 14 years' experience delivering fresh, creative and delicious menus specifically for upscale weddings and events, Bursaria are the kings of catering. You will not have to worry if your guests had enough to eat, or liked the food – it's an absolute certainty.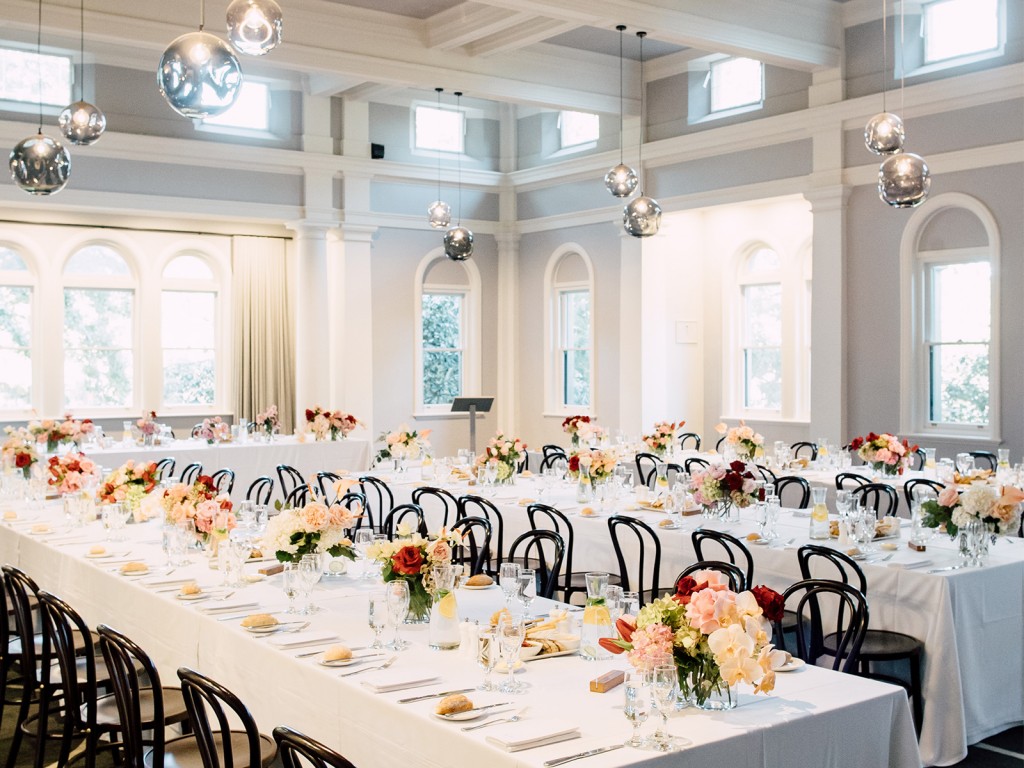 Melbourne is so lucky to have this stunning venue, right in their own backyard! It's hard to believe this hidden gem is only a quick 35 minute drive west of Melbourne CBD, over the West Gate Bridge along the M1 freeway – which is super convenient for your guests, especially if they are flying in from interstate, as they have the option of both Tullamarine and Avalon airports to arrive into. Although it is so close to the hustle and bustle of Melbourne city, when you arrive on this property you immediately feel like you are a world away, so you can completely relax, immerse yourself in the celebrations and there's no need to rush off at midnight either – Werribee Mansion offers boutique accommodation to stay the night, and a day spa to recover the next day!
Wandering around the property gives you giddy goosebumps; and your mind starts to run away with styling inspiration and décor ideas… The property is so classic and clean, it's basically a big blank canvas for you to bring your fairytale wedding vision to life. Whatever your wedding style – vintage, classic, glam, modern, garden, earthy, natural – it's the perfect space to create the wedding of your dreams. There is seriously so much to love about The Refectory, you need to see it for yourself. Book an appointment to view the property, and then you will understand that your happily ever after starts here…